11 juin 2010
Frequent Travellers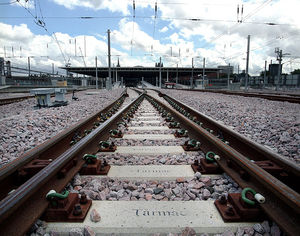 Two types of people coexist in airports, frequent travellers and the others. Frequent travellers sail through airports with effortless grace. Their poise is unaffected by security check, their assurance conveys a feeling of tranquil resignation. Their belt is in the stupid little case within seconds, the laptop follows. They don't fiddle with their bag for 45 seconds trying to extract it. It practically jump out and land in the grey box with just the right amount of noise to express the total disregards they have for this tool they are lugging around. Frequent travellers don't linger, they don't shop, they arrive with just the right amount of time before the flight to reach the gate. They don't look at signs feverishly trying to locate gate G62. They know where it is and that they will first get a small marzipan at Dalmayr for whomever they left home, they know that they will grap a cup of fresh fruit right before they need to go to the lower floor. They know where the unused electric plugs are, were to sit away from the loudspeakers and which chairs are more confortable. Of course they could go to the senator lounge but they don't have time. But the thing they know best is other frequent travellers. The eyes linger onto the others just a bit longer. A feeling of kinship develops during the unavoidable delays, unforeseen layovers, hang-ups and the occasional missed flight. They are a tribe of ozone depleters and carbon footprint mammoth, by end of January they would need the area of a small country to offset it.
Frequent travellers hate the masses. The masses are slow, in their way, unorganized, unprepared and inefficient. They slow down the lines at the security checkpoint and they are loud.
Today, while visiting one of my key airports something happened. My new laptop got caught in my bag and the security personnel asked me if I had liquid in my handbag. Of course I didn't it was in the first box with my belt and my jacket. Then my cashmere shop turned out to be in another airport and my beer hangout had disappeared. Finally the tranquil glance of my fellow airport loiterers confirmed it. I may know that in SFO sushi is the way to go, that in MUN it is marzipan, in KLN shops are on 3 floors but globally uninteresting and in LYS you can arrive late, I am not a frequent traveller anymore.
Come to think of it… I kinda like it.
Commentaires
Poster un commentaire